Revival of MOCHIO SENBONZAKURA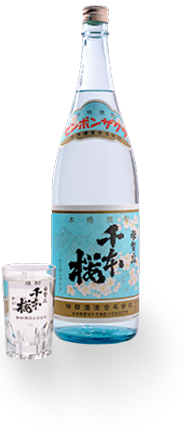 We produce sweet potato SHOCHU called MOCHIO SENBONZAKURA which was reborn for the first time in 35 years in 2013.
In 1978, when the fourth head of the family was at the age of 40, this brewery ceased production of sweet potato SHOCHU and specialized in barley SHOCHU. This was a management decision based on the survival of the most historic brewery in MIYAKONOJO due to price competition with major companies. MOCHIO SENBONZAKURA was the sweet potato SHOCHU that represented the brewery since its establishment and it had been passed from generation to generation. To make the crucial decision to cease production must have been agonizing.
When I quit my engineering job in my 20s and took over our family business, I had a strong feeling that I would like to revive MOCHIO SENBONZAKURA. The one my father decided to stop producing at the brewery. I thought the revival of MOCHIO SENBONZAKURA was my mission. Then I visited many acquainted retail liquor shops and let them know that I would revive MOCHIO SENBONZAKURA. Many people welcomed my announcement.
One liquor shop owner scolded me.
"That is not the way it should be."
This liquor shop owner corrected me straight forwardly.
"If you would like to show your respect to your father, the first thing you should do is to take over the barley SHOCHU that your father put all his effort into brewing.
Once you succeed at that, then you may be able to do something new."
My father had been producing our barley SHOCHU with his utmost effort in order to protect his family and employees. To protect the taste of our barley SHOCHU, this is my mission.
I sincerely took the advice and have been brewing our barley SHOCHU with my whole heart.
I protected the brand passed down from my father, improved distillation and created my own new barley SHOCHU.
10 years after I took over the business and my predecessor's technique as the fifth head of the family, I turned 40 years old.
This is the year that I revived MOCHIO SENBONZAKURA.
Our sweet potato SHOCHU, MOCHIO SENBONZASKURA was reborn after 35 years.
My predecessor who made the heart-breaking business decision roused his TOJI spirit and mustered up all his courage from a bed of illness. He led the way for production at the YANAGITA Distillery.
All of the workers at the brewery revived MOCHIO SENBONZAKURA. It was beyond words to express our delight and happiness. This was the moment that I extended my sincere appreciation to all.
Though our brewery is a family-owned small brewery, we will continue to strive to protect our spirit and taste for SHOCHU.
YANAGITA Distillery is devoted to brewing SHOCHU sincerely.